Inter-Asia Cultural Studies Conference
, 30 July 2017@Sungkonghoe University, Seoul, South Korea
夏、ソウルで開かれた国際学会で、モバイル・メディアの日常性についてのパネルを、慶應大学の
加藤文俊
さん、
大橋かな
さん、豪メルボルンのRMIT大学の
Larissa Hjorth
さんとオーガナイズ。Larissaはソウルの会には欠席、3人で発表を行った。パネルの概要は以下。
[PANEL] Everyday Mobilities and Intimacies: mobile media in Japan This panel explores how digital mobile technology intervenes and interrelates into personal lives in Japan. Against the macroscopic outlook around the mobile technology and social changes, most part of people's lives still depends on small circles, intimate relations and personal/private moments. As a visible presence for close communications, personal/intimate archiving and everyday coordination, mobile technology continuously involves personal life aspects such as family, close relationship, cares and management of privacy. From ethnographic attempts with a micro-perspective on personal living conditions and practices, presenters will examine how digital technology involves, transforms and relocates people's lives to bring about a new mode of intimacy.
「触覚的写真」と題した私の発表は、ケータイカメラで撮影する写真の感覚的あり方についての考察。一部の内容はは近刊予定の論文集に寄稿済みだが、さらにジャーナル論文していきたいと考えている。ワークショップ技法を使ったパフォーマンス・エスノグラフィー接近法の限界もしみじみと感じているところだが、普通のエスノグラフィーではたどりつけないインサイトだと信じるし、満足できる形でまとめたいと、新たに決意した次第である。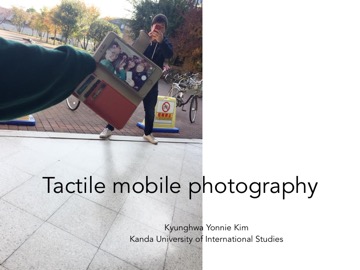 Tactile mobile photography [Abstract] This paper explores the emerging sensibilities of digital photography in terms of visual tactile (Cooley, 2001) and ubiquitous mode of photo-taking practice. With the spread of camera-embedded mobile phones, while the ritual aspect of photography as one's life log is increasingly blurred, the photo-taking is instead becoming a banal and mundane practice. The haptic experience may be a key to understand this everydayness of photography, as the presence of mobile media in one's hand seems to play as a new desire and sensitive source for visual archiving and sharing. Based on an ethnographic investigation of Japanese youngsters' use of mobile camera, the paper presents private modes of mobile photography, of which are rather reflexive than public, rather playful than ritual, and finally rather tactile than visual, so as to interrogate the meaning of vernacular photography in the era of mobility.
<!테스트중-- AddThis Button BEGIN -->