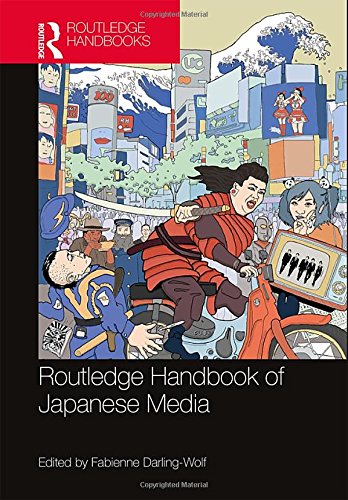 Kim, Kyounghwa Yonnie (2018). "
Keitai
in Japan" in Darling-Wolf, Fabienne (Ed.)
Routledge handbook of Japanese media
. Routledge. pp.308-320.
[ABSTRACT] This chapter explores mobile media (i.e.
keitai
) and communication of Japan, as a key to understand contemporary mode of Japanese everyday lives. As a powerful test-bed for new technology, Japan has adopted mobile media and wireless Internet quite early so as to provide an excellent example of future of mobile societies. Focusing on the Japanese youth as a cultural pathfinder for adoption of mobile technology, this chapter will present and discuss cultural forms of mobile practices in Japan, whereby to disclose the relationship between mobile technology and its social manifestations. 
日本のメディアを取り上げる論文集にモバイル・メディアについての論考が掲載された。ケータイをめぐる従来の議論に慣れていない読者のためにいままでの論点を網羅的に紹介した論考である。鋭く論じるわけではないのでややゆるい感じもなくはないが、しっかりした入門編にはなっていると考える。原稿を書きながら自分のなかでは「ケータイ」というキーワードがとりあえずは一段落したと感じた。これからはモバイル・メディアという研究対象をどのように、どの方向にずらしていくのかが、課題になりそうだ。
内容は読みやすいと思うが、タイトルはやはり分かりにくい。
Keitai
という概念自体が初歩者にはぴんとこないかもしれず、具体的で誰でも分かりやすいタイトルにすべきだった。反省を兼ねてどんな内容になっているのか、節別タイトルを記載しておく。
&nbsp Introduction: a unique but global phenomenon
&nbsp &nbsp The role of young users and ambivalent discourse
&nbsp &nbsp The emergence of mobile Internet and techno-nationalism
&nbsp &nbsp The rise of 'neo-digital natives'
&nbsp &nbsp The preference for asynchronous and literary communication
&nbsp &nbsp Mobile literary creativity: a case of
keitai shosetsu
&nbsp &nbsp Gendered creativity: the internet vs. mobile internet
&nbspConclusion: cultural relocation of technological gadget
<!테스트중-- AddThis Button BEGIN -->